Watershed Distillery starts selling hand sanitizer to the public
Watershed Distillery is now selling hand sanitizer to the public.
The Columbus spirits maker is one of several in town that pivoted to producing sanitizer given the increased demand caused by the coronavirus pandemic. Its initial plans were to focus on a free spray product for first responders, but it has decided to make hand sanitizer to sell as well.
"We have the capability to offer something in this fight – something to slow the spread of this virus in our community – and we've been working around the clock to get it done," CEO Greg Lehman said in a news release.
The topical hand sanitizer is made from denatured alcohol, glycerin, hydrogen peroxide and purified water and is made in line with Food and Drug Administration guidelines. It will be sold in three-volume options: 16-ounce bottles, one-gallon bottles and five-gallon buckets. The prices are $17 per gallon for first responders and $25 per gallon for the public and businesses.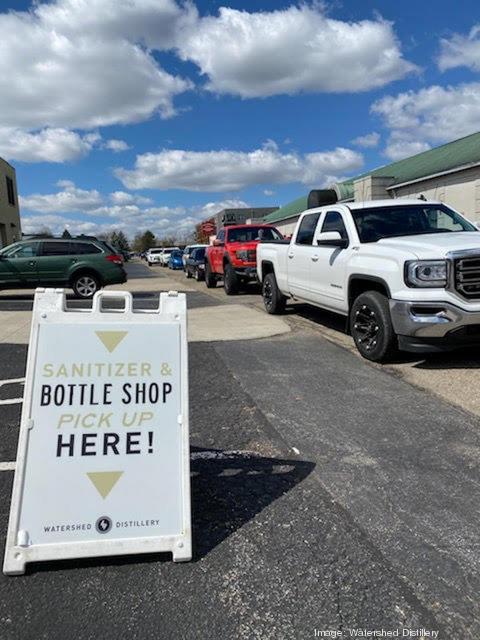 Watershed said the work allows the company to retain at least two employees and potentially more to help with the production process.
There are some rules. Watershed cannot ship or deliver product. It must be picked up at the distillery. Though Watershed is maintaining its bottle shop hours, all orders are being handled as curbside pickup, be it hand sanitizer, Watershed spirits or other bottle shop items.
Walk-ins are allowed (without actually walking in, of course), but the maximum purchase for those customers is four 16-ounce bottles and two one-gallon jugs.
For larger orders, scheduling ahead is necessary via calling 614-357-1936 or emailing info@waterhseddistillery.com.
Pick-up times for first responders will be 10 to 11 a.m. daily, while pick-up times for the public will be 11 a.m. to 2 p.m. daily. Walk-ins can come in during normal bottle shop hours from 11 a.m. to 5 p.m.
More Information